Fellowes Powershred 8C+8CD+6C Review
Fellowes Powershred 8C+8CD+6C: Fellowes has built many different variants with the "Powershred 8", which differ only slightly. Therefore, we have summarised the product range here for a test overview.
If you take the 8CD model, for example, it contains a CD shredder as well as a processing capacity of 8 sheets. So in case you choose the 8C, it does not contain a CD shredder, but you can shred up to 8 sheets at a time.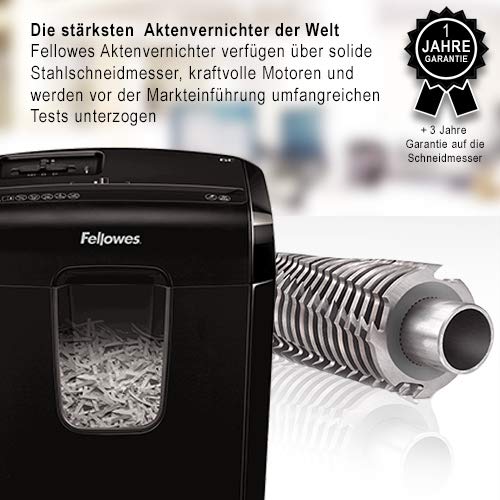 If you do not need such a high capacity, the 6C model will suffice, as it can only shred 6 sheets at a time – however, all models have the cross-cut or cross-cut technology for paper destruction in common.
On pure technology – the rollers used seem robust – but the gear shows plastic teeth. You should therefore not overload the machine (permanently), because the processing speed drops noticeably from 4 sheets onwards (the shredding continues in a "tortured" manner, which is clearly audible), but this is also normal for all models. In my experience, the model
6C with 3 to 4 sheets at a time. The model 8C / 8CD with 4 to 5 blades.
We measured a noise level of 73 dB directly at the machine – but only for a very short time when the rollers "fully accelerate" to pick up the paper. Most people sit a little away from the shredder and often there is a desk wall in between, so you have to reckon with a noise level comparable to the working noise of a hoover. The target group for the devices is clearly private users with the 6C or small offices with the 8C / 8 CD model.
BUY FELLOW POWERSHRED 8C ON AMAZON
Overview
Fellowes Powershred 8C Particle Cut Shredder (P-4) (8 sheet paper shredder with home security lock):
Style: Particle cut
Model number 4689601
Item weight 4,08 Kg
Dimensions 20 x 29.8 x 38.4 cm
Colour Black
Size 8 sheets
If you also use CD/DVD archiving for data storage, it is better to use the 8CD model – it destroys CD/DVD media as well as credit cards. Unfortunately, there is no separate "plastic compartment" – everything goes into a large collection bin. The CD/DVD/credit cards are only cut into 3 rough strips. This type of finishing is not sufficient for credit cards. You can still read all the numbers and data depending on the position of the credit card when you insert it. The price differences between the devices are small – there is a difference of about 10 £ between the 8CD and the 6C.
So price should not play too big a role in the decision. The maximum capacity of 6 or 8 sheets should be the absolute upper limit and should not be used permanently. With this number, the Fellowes Powershreds visibly finds it difficult to maintain a "normal" speed. The paper quantity is designed for paper with a weight of 70 g / sqm. Under no circumstances should you use thicker paper (e.g. cardboard or the maximum amount of photo paper). You will find the paper thickness on the packaging of the copy paper you are using.
Fellowes Powershred 8CD Particle Cut Shredder (P-4) (8 sheet paper shredder with security lock and home CD shredding) Product Information:
Style: particle cut with CD shredding.
Model number 4692101
Item weight 4,08 Kg
Dimensions 20 x 29.8 x 38.4 cm
Colour Black
Size 8 sheets
We have tested the 8CD and 6C and describe the functions, special features and advantages/disadvantages here. If you choose the 6C, the descriptions apply analogously to the "smaller" model 8C (8 sheet capacity) or 6C (max. 6 sheet capacity). Fellowes Powershred 6C The models are designed for around 100 sheets of paper to be shredded per day. Technically, this corresponds to a shredder security level P-4 (i.e. a DIN A4 is cut into 400 small pieces, each measuring 4 x 35 mm). The unit can process 6 or 8 sheets at a time (including staples). It can do this for 3-4 minutes for normal household quantities of paper (for 6C, 8C, 8CD) without pausing due to excessive heat.
After the machine has run for 3-4 minutes at the highest power level, it needs a cool-down break of around 30 minutes. During the tests, these specifications were (unfortunately) realistic, i.e. the processing speed of max. 3-4 minutes and the pause for cooling down were (unfortunately) mostly only adhered to for a few minutes (especially the 30-minute pause). The Fellowes shredder runs on for quite a long time – the idea behind this is to ensure that even the last paper shreds end up in the collection bin – this is quite annoying – but is the case with all document shredders.
BUY FELLOW POWERSHRED 8CD ON AMAZON
Fellowes Powershred 6C Particle Cut Shredder ((P-4) 6 sheet paper shredder, with home security lock):
Style: Just paper-shredder (no CD-shredder)
Model number 4686601
Item weight 3,6 Kg
Dimensions 16.8 x 29.8 x 36.5 cm
Colour Black
Size 6 sheets
After the paper or CDs have been destroyed, the units collect the cuttings in an 11-litre container (for the 6C) or 14 litres (for the Fellowes Powershred 8C/8CD). The amount corresponds roughly to a slightly larger cleaning bucket. To give you a better idea. The 14-litre bin is full of 40-50 sheets of paper shreds and should be emptied – tip: if you take the attachment off more often and press the shreds together, you can save yourself many a trip to the bin, because 11 or 14 litres is really not much, but it is sufficient for a private household.
In our experience, a small office (max. 4-5 employees) produces only a little more than 100 pages per day. Whether all of them really need to be destroyed is another matter (doctors' surgeries, notaries' offices and similar confidential areas excluded, of course). For these offices, the Fellowes Powershred 8CD would be the right choice due to its higher capacity – unfortunately, the device is only equipped with security level P-4, i.e. the shredding is not secure.
It would take a lot of effort to make the shredded pages readable again (shred size 4 x 35 mm). In offices where a lot of confidential content is handled, paper shredders with at least a security level P-5 would be appropriate. For private use, however, this is perfectly adequate. No evil neighbour would sit down for weeks and glue together individual shreds from a bank statement, would he ;o). All the shredders mentioned here have a return mechanism in case paper gets tangled – a paper sensor that activates the shredder and automatically turns it off again. In addition, there is a 2-year warranty on the device and a 3-year warranty on the cutting blades (keep in mind that Amazon only gives a 1-year limited warranty). If you buy the appliance "outside", you have more security. On the other hand, we have never had any complaints or problems with Amazon.
The ideal thing here – as with most document shredders – would be a fill level indicator that also stops the shredding when the device is too full. Unfortunately, the "viewing window" is not very large (about the size of a cigarette pack), so you cannot read the fill level from every sitting position.
The appliance series could also be improved by using a different material for the mode selection slide switch. It tends to get caught easily. Metal or aluminium would be better than the chosen plastic. The lack of a mains switch can be circumvented with a (foot-) switchable socket. In this case, however, it's not a tragedy – when it's switched off, it only needs about 1 watt.
What I can't understand at the moment is the enormous price range. I was able to find prices (e.g. at idealo.de) for the Fellowes Powershred 8C / 8CD models that ranged from around 45 to 70 £ – a mid-range price of max. 50 £ seems appropriate. For units above the 60£ mark, however, you can get much better units. The easy-to-read, multilingual instruction manual recommends oiling after each emptying; I think that is appropriate. This is the only way the shredder will run "smoothly" and not get louder over time.
And last – again, no one has thought of a handle for the waste paper basket. Although the cutting unit has handles, the waste bin – as with almost all appliances – only has smooth walls, so hold on tight. ;o)